Georgia's WIN List is proud to endorse CaMia Hopson for Albany's House District 153, where she hopes to defeat a Republican challenger and represent the area she has lived in almost all her life.
Hopson defeated a four-year Democratic incumbent in May with a vigorous grass-roots campaign. "I mapped out a strategy to meet and talk with as many people as I could. It's like that thing about eating an elephant: One bite at a time," she said.

She plans to keep knocking on doors between now and November. "I plan to compassionately connect with our community and address our needs and concerns together," she says. "HD 153 needs representation which will work for EVERYONE, whether it's working toward creating sustainable communities, fighting to fund the educational needs of our children, or making decisions which lead to better care for our elderly and those with mental challenges."
CaMia's degree from Albany State University is in Computer Information Systems with a minor in Business Administration. She has worked for more than 20 years in project management & business analysis with responsibility for budgeting millions of dollars at Fortune 500 companies such as AT&T, Bank of America, HP, and the American Cancer Society. She is currently a business analyst for the U.S. Marine Corps at Albany's Marine Corps Logistics Base, one of the district's largest employers.  
CaMia and her husband, Granger, have four children. Over the years, she has demonstrated her commitment to community service as past president of Albany's chapter of Chapter of Jack & Jill of America, Inc., as Board Chairperson for Flint River Habitat for Humanity, and as a member of Leadership Albany, the Downtown Development Authority, and the Dougherty County School System's Local School Governance Team. As a servant leader, she has organized community clean-up drives, holiday thank-you letter drives to deployed military, and food & coat drives for the homeless.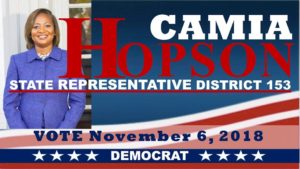 CaMia Hopson for GA House District 153
Community leaders like CaMia Hopson know the residents of their communities well. And they know what the residents need. After defeating the male incumbent by just 96 votes in the Primary, CaMia now faces a male GOP opponent in November. With her candidacy, CaMia proved – just like all the other 35 WIN endorsed women – that when women run, women win. We need your help to push them over the finish line.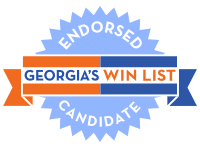 Please follow and like us: