Georgia's WIN List is proud to endorse Dawn Johnson for Georgia's State Senate District 47 in her efforts to defeat Republican incumbent Frank Ginn. This district includes portions of Barrow, Clarke, Jackson, Madison counties and the cities of Jefferson, Winder, and Royston.
"Georgia does better when Georgians do better. Georgia has been great to corporations, but now it is time to be great to its citizens. Georgians need accessible and affordable health care, jobs which pay a living wage, a modern infrastructure, quality educations, and safe schools." – Dawn Johnson
During the course of campaigning, Dawn was asked who was looking after her children while she was on the campaign trail and about childcare plans if she were serving in the legislature. Her powerful answer:
"I am looking after my kids by being on the campaign trail. Fighting for universal Pre-K, fully funded schools, affordable college, affordable health care, and a prosperous job market is the best thing I can do for them as their mom." – Dawn Johnson
Dawn studied at the University of South Carolina Aiken and holds a Masters of Fine Arts in Creative Writing from Queens University of Charlotte. She resides in Winder with her husband and two children. From an early job as a deputy sheriff to her current career in the field of developmental disabilities, Dawn has spent her life serving others. For the past 16 years, she has been an advocate for integrated services for people with disabilities, currently serving as director of a program which helps disabled people find and hold jobs. She also is a Girl Scout troop leader and in 2017 was a gubernatorial appointee to the Georgia State Rehabilitation Agency.  
Here are Dawn's positions on several issues important to her district:
HEALTHCARE

: Dawn will work to expand Medicaid and end the physician shortage in Georgia. She hopes to reduce the cost of prescription drugs and work towards better treatment solutions for drug and alcohol addiction. As a long-time advocate, she strongly supports people with disabilities and their families. Dawn wants to stop the alarming trend of rising infant and maternal death rates in Georgia by improving access to healthcare and implementing uniform medical protocols for maternal care.
Watch Dawn own her opponent during this health care debate: http://bit.ly/WIN-DawnJohnson-HealthcareDebate
ECONOMIC SECURITY FOR WORKING AND MIDDLE CLASS

: Dawn believes that it is important to pay workers a "living wage" and proposes ending Georgia's "Right to Work for Less" laws. She is passionate about supporting working families and providing them with affordable child care, paid leave and health insurance. She will work to secure a "dignified" retirement.
AFFORDABLE QUALITY EDUCATION

: Dawn wants to lower student loan debt in Georgia. She supports historically black colleges and universities as well as other institutions which serve minority students. Dawn proposes to fully fund public schools and increasing teacher pay. She hopes to expand the HOPE Scholarship and increase funding for trade school training programs and trade apprenticeships. Dawn is also a strong advocate for "inclusive" education for children with disabilities.
ENVIRONMENT

: Dawn wants a clean energy economy and hopes to bring green jobs to Georgia. She believes in protecting our land and public waters as well as environmental security and climate justice. She proposes a "Go Green Georgia" program which would promote green technology in government buildings.
Learn more about Dawn and her campaign here:
Dawn Johnson for State Senate District 47
Georgia women like Dawn are making history in this midterm election cycle as they run for seats long held by Republicans. With women in record numbers on the ballot this year, WIN List needs your help to elect these women and train the candidates we want to see on the ballot in 2020 and beyond.
Will you join us today with a generous gift?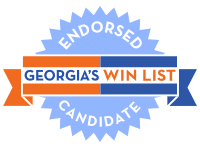 Please follow and like us: