Georgia's WIN List is proud to once again endorse Donna McLeod for House District 105 in Gwinnett County, one of the state's legislative seats most likely to flip from red to blue. In fact, Republican efforts to re-draw lines of this district in 2015 were at the heart of a recent court fight.
McLeod ran for this seat in 2016 and lost by only 222 votes. She never suspended her campaign and the incumbent she almost defeated in 2016 has now chosen to retire. Donna is graduate of 2017 WIN Leadership Academy class and is endorsed by former President Barack Obama, EMILY's List, and a long list of other progressive organizations.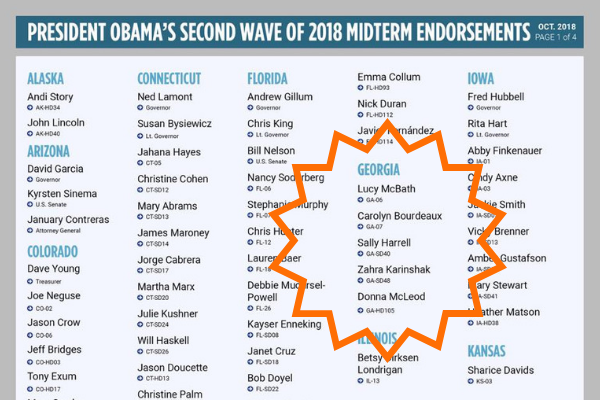 House District 105 is in eastern Gwinnett County and includes the towns of Bethlehem, Dacula, Grayson, Loganville, and portions of Lawrenceville. It is a rapidly growing area with many new subdivisions and a rapidly growing African-American population which is evidence of the county's recent well-publicized demographic shift from a long-standing majority white population to a majority-minority population. Certain precincts in Gwinnett are now among the nation's most demographically diverse.
Donna learned about her district as she volunteered with local and state races, most notably for the Obama campaign in 2008 and 2012. She has also conducted voter registration drives, personally registering more than 6,000 voters, often from a table set up in front of a Walmart in the district on weekends. She says it is particularly meaningful to meet voters she initially registered as she now campaigns door-to-door.
A native of Jamaica, Donna has lived in Gwinnett County for 18 years. She volunteered at the grassroots level and served in appointed campaign positions long before she became a U.S. citizen in November of 2012.  She has a degree in chemical engineering and works as a quality assurance consultant to national and international companies who manufacture and market medical devices.
As a healthcare professional, she speaks eloquently about the need to expand Medicaid. "Nobody should have to choose between buying the food they need and paying for life-saving medication," she says. "We must ensure that people with pre-existing medical conditions have access to affordable healthcare."
Donna's platform also includes:
Easing traffic congestion

Restoring HOPE scholarships
Introducing automated voter registration
Removing obstacles to voter registration
Working to promote a living wage which would allow more workers to earn middle-class wages
"We are a participatory democracy! Our country does not work when people do not vote. If you are not registered and voting, your voice is not heard."
Donna McLeod for House District 105