Georgia's WIN List proudly endorses Essence Johnson for House District 45 which includes portions of East Cobb and Sandy Springs falling within both Cobb and Fulton Counties. She hopes to unseat Republican Matt Dollar, who was first elected in 2002 and holds the distinction of becoming the youngest committee chair in Georgia house history.
A native of Northern Virginia, Essence holds a Bachelor's degree in Communications Studies and Political Science from Longwood University and a Master's of Science degree in Human Resources from Troy University. She and her husband, Michael, have one child. She has worked more than 15 years in the human resources sector for start-ups and established organizations in the areas of policy design, compensation, performance management, recruiting, compliance reporting, and benefits administration.
Essence pledges to place community before special interests and plans to serve her district on the three pillars of a quality education for all children, full access to healthcare, and reasonable economic development. Her platform for working on these issues includes the following:
EDUCATION

–

"

Every child deserves a quality education. The current finance formula for per-pupil expenditures is outdated," Essence says. She promises to work toward a modern funding model, competitive pay for teachers, smaller class size, vocational training programs, special education services, and professional development. She also pledges to

preserve and expand the

HOPE Scholarship so college students graduate with the education and training they need without accruing debilitating debt.
"Learning should not depend upon on one's socioeconomic status. Our schools must be able to address the diversity of today's classroom including special education needs, academically advanced children and our racially, ethnically and culturally diverse student body. Differences must be viewed as assets and our learning environment must be safe, inclusive and respectful." – Essence Johnson
HEALTHCARE

– Essence believes Georgia must expand Medicaid to care for veterans, low-income families, the elderly, and those with disabilities. Georgia's current uninsured rate is 12.9% – the 5th highest in the country. Without Medicaid expansion, the uninsured rate could rise to 25% by 2026. The state leaves 33 billion dollars on the table over ten years if Georgia does not expand Medicaid.
"Healthcare should not be 'wealthcare.' Everyone needs access to quality health services, no matter their ability to pay." – Essence Johnson
ECONOMIC DEVELOPMENT

– Because her husband is a small business owner, Essence knows first-hand that small businesses are the backbone of our country.  She believes entrepreneurs must be equipped with tools for success such as access to capital, tax incentives, and technical support, as well as tax breaks for hiring from within the community and for providing on-the-job training to youth and seniors.
"When we invest in education and job training, we have graduates who return and contribute to our community. We must provide training, certification, and apprenticeships to prepare residents for highly-skilled, well-paying jobs in the workforce. We need to return vocational training programs like welding, plumbing, and electrical engineering to our schools because this investment in training workers is a win-win." – Essence Johnson

Essence Johnson for House District 45
Women like Essence, many frustrated with their current representatives, have fearlessly stepped up all across the state of Georgia to challenge long-term GOP incumbents. The GOP has been in control for far too long and has done far too little to advance Georgia forward. With the election of Essence and the other 35 WIN endorsed women, Georgia will truly have a more representative legislature and a brighter, more inclusive and prosperous future.
Will you join us in our fight to help get these amazing women elected?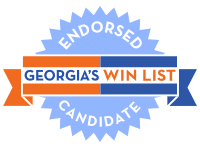 Please follow and like us: