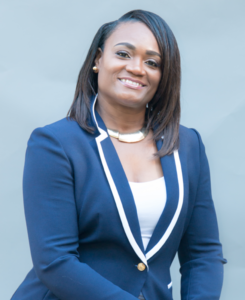 Georgia's WIN List is proud to once again endorse Donna McLeod for House District 105 in Gwinnett County. 
Donna is a Chemical Engineer with over 20 years' experience in Quality Assurance Management/ Engineering, she is now the President/CEO of Enviroqual, LLC a Quality Assurance/Regulatory Consulting company specializing in Medical Devices, Food, Plastics and Pharmaceuticals. 
A native of Jamaica, Donna has lived in Gwinnett County for 18 years. She volunteered at the grassroots level and served in appointed campaign positions long before she became a US citizen in November of 2012. Donna is a graduate of the 2017 WIN Leadership Academy class, and has also participated in trainings offered by EMILY's List and other progressive organizations. Her 2016 campaign was endorsed by former President Barack Obama. Donna lost the 2016 election by just 222 votes in a heavily gerrymandered district, but she persisted and won in 2018 by more than 4,000 votes. She is the first Jamaican-American to be elected a Representative in Georgia.
House District 105 is in eastern Gwinnett County and includes the towns of Bethlehem, Dacula, Grayson, Loganville, and portions of Lawrenceville. It is a rapidly growing area which recently has experienced a demographic shift from a long-standing majority white population to a majority-minority population. Certain precincts in Gwinnett are now among the nation's most demographically diverse. 
Ms. McLeod is a co-founder of C.A.N.I, Inc., (Community Action Network Initiatives) a non-profit 501c3 organization that helps inform people of their civic and societal rights and responsibilities. Donna is dedicated to educating the electorate on the importance of their roles in society and the power of the VOTE as a vital force in constructively changing our communities and our country. She is the Committee Chair for Voter Outreach and Outreach for the Gwinnett County Democratic Party as well as member of the Executive Committee. She has recently also worked with Secretary of State to update the "My Voter Page" to include county election information.
She was awarded the Georgia Secretary of State Outstanding Citizen Award in 2015, RevUp's Sankofa Leadership in 2017, Gwinnett County Democratic Party Leadership/Service Award in 2017 and Freedom Fighter Award from the Family in 2018. She also sits on the STEM Board at Discovery High School.
"Nobody should have to choose between buying the food they need and paying for life-saving medication," she says. "We must ensure that people with pre-existing medical conditions have access to affordable healthcare."
Donna's platform also includes: 
Removing obstacles to voter registration

Fighting to expand Medicare

Working to promote a living wage which would allow more workers to earn middle-class 

Easing traffic congestion

Fully funding K-12 public education

Restoring the HOPE scholarship
Donna is the mother of a grown daughter and she is also a very proud grandmother.
Campaign Links: