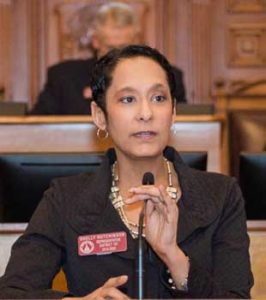 Born and raised in New Orleans, Shelly's family and faith taught her the values of honesty, commitment, and leadership at a young age. Shelly graduated from LSU with a BA in Criminal Justice, before moving to Atlanta where she met her husband. In 2000, she graduated from UGA with a Masters in Social Work — the same year that she and her husband also welcomed their first child.
Shelly began her lifelong career in social services and child welfare by working for Fulton County DFCS. In 2002, Shelly founded The Social Empowerment Center, a mental health and social services outreach and treatment center in Lawrenceville. After being recognized by the Bulldog 100, as the #1 fastest growing businesses owned or operated by UGA Alumni in 2014, Shelly also landed a job as a part time professor at the UGA School of Social Work.
As the chairperson of the Local Interagency Planning Team and the Children In Need of Services Committee, Shelly assists local leaders in providing access to unconventional services for children in need of behavioral health services. She also belongs to numerous professional organizations such as Together Georgia, The National Association of Social Workers, and The Georgia Society for Clinical Social Work. She is active in alumni organizations and is a current member of the UGA alumni Board.
As a eucharistic minister, lector, and volunteer, Shelly and her family have maintained the traditions of her Catholic roots in Gwinnett County. Her children have been altar servers since  elementary school. Shelly's two children attend Brookwood High School and she attributes their academic successes to the high quality of Gwinnett County public schools. 
As your representative, Shelly vows to INVEST, INVOLVE, INFORM, and INCLUDE:
INVEST — Shelly vows to put partisanship aside to create legislation which allows neighborhoods and businesses to thrive. She believes investing in the community means more jobs where they are needed. Shelly also acknowledges the need for better transit to get families to those good jobs, and will push for a comprehensive transit plan which would attract more businesses, even more transplants, and increase tax dollars. "Those tax dollars will then be invested in our community to increase education budgets, increase mental health budgets, and decrease our carbon footprint."
INVOLVE — Shelly firmly believes in a compassionate approach to legislation for all sectors of our communities which takes care of all. Currently, wealthy companies flourish while families covered by Medicaid continuously receive fewer and fewer covered services. She believes our schools need reforms which support a student and teacher friendly environment instead of a test friendly environment. "As your next State Representative, I am committed to legislation involving our youth, our senior citizens, and our marginalized communities."
INFORM — Shelly will continue her career in education by informing her community of all upcoming legislation. Shelly will stand for nothing short of transparent, ethical, and honest legislation which supports collaborative partnerships between citizens, businesses, and  government.
INCLUDE — Shelly believes zip codes should not determine your success or your access to community resources or quality education. Shelly will make it her mission to fight for equal rights,  safety, livability, and representation, for all Georgians "As your next State Representative, we will all have a seat at the table. We are all in."
Campaign Links: