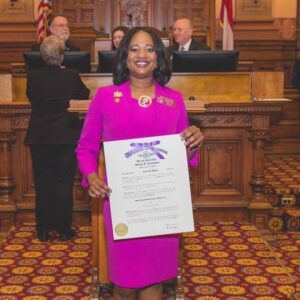 Georgia WIN List is proud to endorse CaMia Hopson for Albany's House District 153, where she hopes to continue representing the area where she has lived almost all of her life.
Hopson defeated a four-year Democratic incumbent in 2018 with a vigorous grass-roots campaign. 
"People who know me, know I really care about making our community better and this district had come to expect more from the people who represent them."
CaMia is passionate about representing the needs and concerns of those in her community.
"HD 153 needs representation which will work for EVERYONE, whether it's working toward creating sustainable communities, fighting to fund the educational needs of our children, or making decisions which lead to better care for our elderly and those with mental challenges."
CaMia holds a bachelor's degree from Albany State University in Computer Information Systems with a minor in Business Administration. She has worked for more than 20 years in project management & business analysis with responsibility for budgeting millions of dollars at Fortune 500 companies such as AT&T, Bank of America, and HP. She is currently a business analyst for the U.S. Marine Corps at Albany's Marine Corps Logistics Base, one of the district's largest employers.  
CaMia has four children: Zoë, who is a pre-med/pre-law 2nd year student at Yale; James, who will be attending Duke University in the fall, Baron, who is a high school junior, and John, who is a freshman. 
CaMia attributes much of her commitment to servant-leadership to her parents.  Her mother is a retired elementary principal of the Dougherty County School System and her father is a retired fireman of the Atlanta Fire Department. Over the years, she has demonstrated her commitment to community service as the current Board Chair for Flint River Habitat for Humanity, immediate past president of Albany's chapter of Chapter of Jack & Jill of America, Inc., and as a member of Leadership Albany, the Downtown Development Authority, and the Dougherty County School System's Local School Governance Team. As a servant-leader, she has organized community clean-up drives, holiday thank-you letter drives to deployed military, and food & coat drives for the homeless.
Campaign Links: