Georgia's WIN List proudly endorses Janice Laws for Insurance Commissioner and supports her efforts to become a change agent for consumers. She will work to reduce Georgia's soaring auto insurance rates, which are among the highest in the nation.
Janice Laws brings 16 years experience in the insurance business to her bid for office. As the owner of J. Laws & Associates, a small specialty lines insurance agency, she worked with thousands of consumers who struggled to pay the skyrocketing premiums for policies which protected their families. After years of telling customers concerned about increasingly higher rates: "I understand, but there is nothing I can do," Janice decided running for Insurance Commissioner would not only allow her to become the voice of reasonable and responsible rates for her customers but also for all Georgia citizens.
A native of Jamaica, Janice immigrated to the United States as a teenager with her family to follow the American Dream and more than 15 years ago applied for United States citizenship. She attended Monroe College in New York and studied Business Administration at Shorter University. She is a member of Women's Professional Development Network, E-Women Network, and has served in numerous leadership roles, including, Leadership Coach, Course Manager, and Team Leader Liaison for Landmark's Global Team Management and Leadership Program.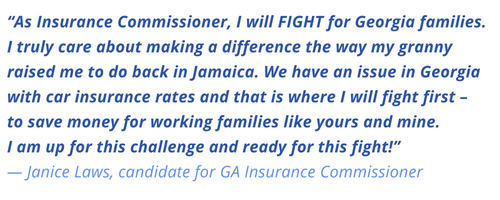 A devoted mother of two daughters, Janice is also an award-winning insurance professional. Liberty Mutual has presented her with Pursuit of Excellence Awards, Pacesetter Awards, and Nationwide Life Insurance Awards. She is ranked among the top 10 agents for providing Life Insurance and the top 25 for auto and home.
As controversy swirls around her Republican opponent, Janice Laws has stayed above the fray and responds, "I am a person of high integrity, commitment, and accountability. I will stay focused on running my race. However, lack of accountability and consumer-protection are some of my reasons for running."
Learn more about Janice and her fighting spirit here: Your Family is Her Fight.
Janice for Georgia 
Georgia women like Janice are making history in this midterm election cycle as they run for seats long held by Republicans. With women in record numbers on the ballot this year, WIN List needs your help to elect these women and train the candidates we want to see on the ballot in 2020 and beyond.
Will you join us today with a generous gift?