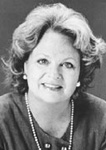 Mary Margaret Oliver | House District 83
Campaign Address: 150 E. Ponce de Leon, Suite 350 | Decatur, GA 30030-3422
Campaign Phone: 404.377.0485
Email: mmo@mmolaw.com
Website: www.marymargaretoliver.org
A life-long resident of District 56 in DeKalb County, Representative Mary Margaret Oliver is chair of the all-powerful House Judiciary Committee. She runs unopposed in the 2004 election cycle.
Oliver has served in the Georgia General Assembly in both the House of Representatives (1987-1992) and the Senate (1993-1998). When Oliver was elected to the Senate, she was appointed to chair the Judiciary Committee during her freshman term, a rare legislative distinction. Her appointment was also of special significance because it marked the first time in 40 years a woman had been named to chair a standing Senate committee. Among her legislative accomplishments are authorship and passage of significant legislation for the protection of children and consumers, including Georgia's anti-stalking law and legislation to protect neighborhood activists from intimidation. She sponsored a package of child protection reform legislation, which cleared the way for police to work jointly with caseworkers in investigating child abuse complaints. It also required a judge's order before a child can be returned to a home where child abuse has occurred, and initiated significant reforms in the foster care system.
Her numerous volunteer activities include the Board of the Dekalb Junior League, membership in the Decatur Rotary club and the Boards of Callanwolde and BOND Community Credit Union in Little Five Points. She attends Atlanta's All Saints Episcopal Church, where she teaches Sunday school. She has volunteered with the Druid Hills Civic Association and opened her home for their Tour of Homes.
She has been honored for her legislative work by the National Association of Independent Business, the Georgia Municipal Association, the Parents Support Network, the Georgia Psychological Association, the American Association of Retired People, and the American Academy of Pediatrics, and was named a Woman of Achievement by the Atlanta YWCA. Honors include the YWCA ("Woman of Achievement) and the Garden Club ("Legislator of the Year").
Oliver earned a BA from Vanderbilt University and a law degree from Emory University. She served as adjunct professor at Emory Law School and an assistant professor of law at the Boston College Law School.
Oliver formerly worked as a hearing officer for the Secretary of State's Joint Examining Board, and the Georgia Department of Medical Assistance, and was appointed to preside as an associate magistrate in the DeKalb County Magistrate Court. She presently divides her time between her law practice in Decatur, Georgia, and the Barton Child Law and Policy Clinic at Emory University Law School, where she is a Visiting Professor.
In addition, Oliver sponsored more than 30 pieces of business-oriented legislation, telecommunications reform, banking regulations, managed care legislation and worker's compensation reform.

The District: District 83 includes Emory University and neighborhoods immediately surrounding.