My first taste of Muhammara was more than 20 years ago at the lovely Asheville restaurant Rezaz in Biltmore Village, where Chef Reza Setayash featured bold Middle Eastern flavors and inspired a generation of innovative Asheville chefs and culinary icons.
Regrettably, the restaurant is now shuttered, a casualty of the COVID pandemic. Over the past few years, the dish was served during an annual holiday gathering at the home of a dear friend and former WIN List board member by family members who immigrated from Syria where the recipe originated, perhaps in the city of Aleppo where it is a menu staple.
Recently, muhammara appeared on the menu of Murphy's and has become a favorite of mine there. It is also on the menu of Truva Turkish Kitchen on Highland Avenue. I resolved to develop my own recipe and this compilation based on the best from several on-line recipes has been tested several times by friends who volunteered to compare various iterations of the recipe during the "experiment" phase.
In restaurants, it is served with warm triangles of pita, roti or similar flatbreads. In the home setting, try it on your favorite purchased crackers, warm pita brushed with butter or even mini pita rounds. For the gluten intolerant, use it as a dip for fresh vegetables, especially celery. Muhammara can be used as a sauce on your favorite pasta noodles or incorporated into fish, shrimp or chicken dishes. It also makes a great alternative to traditional spreads for sandwiches.
Preparation is quick and easy in a Cuisinart or blender. Chefs with scores of sou chefs to boss around roast the red peppers themselves over an open flame. I buy jars of roasted peppers and having tried several brands prefer the Mt Olive brand available at most grocery stores.  Many recipes call for fresh bread crumbs, but I choose to use Panko crumbs because to my mind, they absorb the excess liquid from the jarred peppers better. For pomegranate molasses, I particularly like the Al Wadi brand available in specialty markets and from Amazon.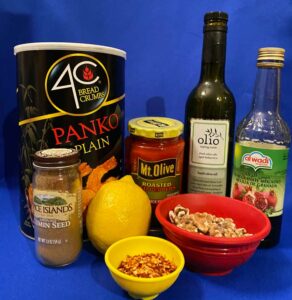 Ingredients:
¾ cup roasted walnuts plus one to two tablespoons for garnish
3/4 cup panko crumbs
1 teaspoon Allepo red pepper flakes
1 teaspoon ground cumin
1 Tablespoon garlic paste
14 to 16 oz roasted red peppers (two Mt Olive 7 oz jars work beautifully)
2 Tablespoons fresh lemon juice
2 Tablespoons pomegranate molasses (Al Wadi is a preferred brand)
¼ cup EV Olive Oil
(Optional when in season – fresh pomegranate seeds for garnish)
Instructions:
Spread walnuts in a single layer on a cookie sheet and roast in a 350 degree oven for 10 minutes.
While walnuts roast, rinse and drain red peppers, removing any remaining skin from the roasting process. Pat dry with paper towels to remove excess water/liquid.
Once walnuts are cooled, put walnuts, panko, red pepper, cumin and garlic paste in Cuisinart and pulse several times until walnuts are finely chopped.
Then, add red peppers, lemon juice and pomegranate molasses. Run cusinart until blended as a paste. Then, with motor running, slowly drizzle in olive oil to thicken as one does when making homemade mayonnaise.
Note: Best when chilled before serving. Store in an airtight container in the fridge for up to a week.