Michelle Au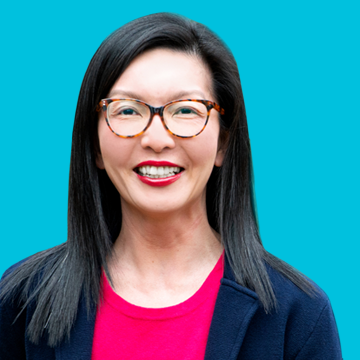 Dr. Michelle Au is a first-generation Chinese-American whose parents immigrated to the United States with their parents in the 1960s following a generation of hardship after World War II. 
With luck, the help of family, friends, and scholarships, both parents graduated from college, and went on to attend medical school. "My parents achieved their American Dream with hard work, perseverance, and a strong belief in the promise that equal opportunity is available to all." Michelle says. "My grandparents and parents have deeply instilled these same beliefs and work ethic in me."
A native of New York City, she is the product of a strong public school education and a magna cum laude graduate of Wellesley College, where she was imprinted with the school's motto, "Not to be served, but to serve" She returned to New York City for medical school at the Columbia University College of Physicians and Surgeons, and stayed on for residency training in both pediatrics and anesthesiology. Michelle and her family moved to Georgia in 2008 for warmer weather and career opportunities. She stayed because Georgia became their home, and the people of Georgia, their family. She is an equity partner at Physician Specialists in Anesthesia at Emory-St. Joseph's Hospital, a private practice group.  
"I became a doctor to help people and fix difficult problems. But over time I've learned health isn't simply about metrics like blood pressure or weight," she says. "Our health is determined by factors such as access to healthcare, education, economic opportunity, and safety. By the time a patient gets to us—if they can get to us at all—our efforts often just put a dressing on a larger wound we don't have the power to heal at bedside."
Driven by an interest to improve community health on a larger scale, she returned to school and earned a Masters Degree in Public Health from Columbia University. "Diving deep into healthcare policy, economics, and law led me realize I should expand my scope of public service. Serving as a state senator will allow me to work hard to address important issues which affect the health of our community every day." 
"Taking care of people is my life's work. The well-being and health of our community will always be my focus," Dr. Au says. "There are no issues too small or too large for me to care deeply about. I will listen carefully and advocate tenaciously for the best interests of all those I represent. Together, we can ensure a healthier future for all Georgians." 
She and her husband, the oculoplastic surgeon Joseph Walrath, live in Duluth, where their three children—Cal (14), Mack (11), and Nina (7) attend public school. Their two dogs, Spot and Bailey, round out the family.