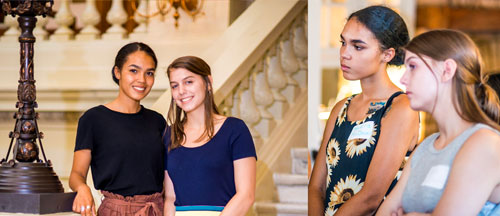 By Olivia Ewing and Ke'Aira McDowell
Olivia: I was introduced to Georgia WIN List through Rep. Mary Margaret Oliver my senior year at Druid Hills High School. Through the work based learning program, Rep. Oliver shared my time with WIN List. What started out as a few hours in the WIN List office a couple days a week addressing envelopes, stuffing donor packets and completing research projects  turned into a part time internship for the summer of 2018. I quickly developed a passion for progressive politics and knew that I wanted to keep working with WIN List. When Melita asked me to recruit a friend and come back for the 2019 summer as a full time intern, I was thrilled. 
Ke'Aira: I started to become interested in politics as a sophomore in high school (2016) and by my senior year, I was really active in my school and community. I attended a small college in a small town for my freshman year of college, but I missed Atlanta and its opportunities. I decided to move back and attend Georgia State where I could be more involved in the issues I care about. When Olivia asked if I'd be interested in an internship with WIN List, I didn't hesitate. This summer has been quite a learning experience and I'm excited to say that my work with WIN List doesn't end here, as I'll continue to intern part-time while attending GSU this fall!
We had a bit of a rocky start due to our inexperience in tasks such as making assigned phone calls, conducting interviews and canvassing. But, nevertheless, we persisted. By the end of the summer we had made huge strides. We quickly learned how to make important phone calls, conduct interviews with elected representatives and we got a lot more comfortable with speaking up and being confident about what we know. From learning recipes for WIN List functions to attending press conferences and media events, we've learned and involved ourselves in a diverse variety of tasks.
We were able to complete some amazing, original research on the relationship between the margin of victory for recent abortion bans in seven states and the number of women who serve in each of those state legislative bodies. Further, we looked into each state's ratio of Democratic to Republican women to see the relationship of not just gender and voting margins, but also party and voting margins. Our research concluded that when more women are in office, it's clearly reflected in the margin of victory for the abortion bans, with states like Georgia having closer votes.
 We also created a district assessment notebook with vital information on demographics, incumbent history and voting margins for all of the Democratic targeted 2020 seats and a few others where resignations or retirements create opportunities for WIN List recruitment of women candidates. We also got the experience of working on a campaign for the first time, canvassing for Jill Prouty in House District 71. We drove down to Newnan and went door-to-door spreading awareness about the special election coming up on Sept 3. 
By attending and working to assist with WIN Leadership Academy classes, we learned more about the functions of our government at the state and local levels which we simply weren't taught in high school. Better understanding the Democratic process has further inspired both of us to continue fighting to defend it.
The work we've completed, the people we've met, including some inspiring and powerful current (and future) women legislators, and the things we've learned will continue to be of use not just in our future jobs but also as we continue college and in life.
This is definitely a summer neither of us will forget, (we'll probably continue making Melita's pimento cheese and BLT's for years and years to come) and we're both grateful to have been able to be a part of such an amazing and impactful organization.