Hatcher Hopes to WIN Henry County Seat
Georgia's WIN List proudly endorses Phyllis Hatcher for Senate District 17 which includes Henry County and portions of Rockdale and Newton counties. Phyllis received 34 percent of the vote in a race with three GOP opponents during January's special election and never stopped campaigning.
She has high hopes to defeat the newly elected incumbent and flip control of the seat because in 2016 Hillary Clinton carried all three counties. If elected, Phyllis would become both the first woman and first African American to represent this district.
An Atlanta native, Phyllis developed a deep appreciation and respect for people of all ethnic, religious, and economic backgrounds as a child. She became a pastor in the United Methodist Church and has also served non-denominational congregations. She holds a Bachelor's degree in Religious Studies from Beulah Heights University and is pursuing a Master's in Religious Studies from American Bible University.
Phyllis has devoted her life to servant leadership as evidenced by volunteer work to feed the homeless and service as Vice President of The Boys and Girls Club in Rockdale County. She served as President of the Fourth Congressional District's Federation of Democratic Women and enjoys a reputation for knowing how to "get things done!"
The issues Phyllis is most passionate about and pledges to work toward once elected include:
HEALTHCARE:

Phyllis believes access to quality affordable healthcare is the right of every Georgian and pledges to work for Medicaid expansion and the legalization of medical marijuana (cannabis oil) so Georgians struggling with debilitating diseases aren't further burdened by out of state travel for medication.
PUBLIC SAFETY:

Phyllis is committed to working with law enforcement agencies and the public to support the needs of professional law enforcement while also promoting accountability whenever and wherever abuses occur.
EDUCATION:

Phyllis believes Georgia's children deserve to receive an education which prepares them to be productive citizens. This goal requires adequate funding spent wisely, well-trained professional teachers, and effective policies.
IMMIGRATION & REFUGEES:

Phyllis believes national security is important and federal immigration laws are in need of reform. However, she disagrees state government policies which use immigration reform as an excuse to unfairly discriminate against law-abiding residents. She believes immigrants are our nation's strength and pledges to oppose anti-immigrant or anti-refugee policies.
VETERANS:

While nearly ten percent of Georgia's population are veterans, recent statistics show 8.8 percent of Georgia veterans are unemployed, 7.9 percent live in poverty, 19.5 percent have a disability, and approximately 1,548 Georgia veterans are homeless. While progress has been made in recent years, Phyllis knows there's still much more work to be done. Phyllis has a grandson who recently deployed and credits his commitment to our country as her inspiration.

She is committed to working to meet the needs and improve the opportunities for those who have sacrificed to protect the security of our nation.
Watch Phyllis's campaign video on supporting Stacey Abrams here.

Phyllis Hatcher for Georgia State Senate
Georgia women like Phyllis are making history in this midterm election cycle as they run for seats long held by Republicans. With women in record numbers on the ballot this year, WIN List needs your help to elect these women and train the candidates we want to see on the ballot in 2020 and beyond.
Will you join us today with a generous gift?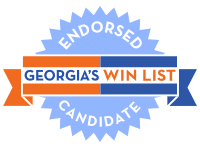 Please follow and like us: