---
January 20, 2019
By Guest Columnist Melita Easters, Executive Director of Georgia's WIN List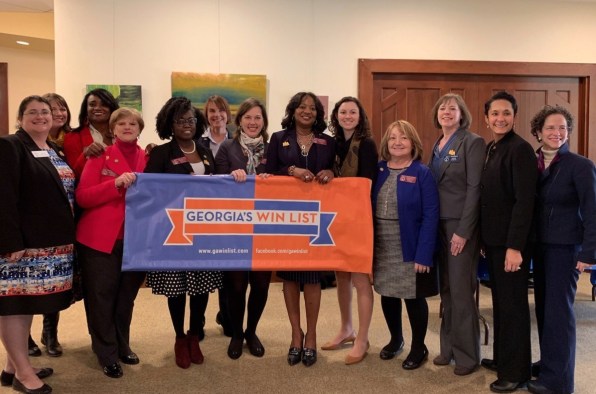 Record-setting numbers of women took the oath of legislative office under Georgia's Gold Dome last week, representing a new wave of enthusiasm and energy for progressive ideas that mirror the media "buzz" surrounding the new class of congresswomen on the national stage.
The newly elected Georgia women have developed a spirited "sisterhood" over months of campaigning together. In some cases, House and Senate candidates sharing contiguous districts hit the campaign trail in tandem to knock on doors and appear together during suburban subdivision homeowner meetings. These strong bonds will carry over to their service in the General Assembly as they work together to push for the progressive policies on prominent display in their campaign platforms.
---
October 2, 2018
By Joan Walsh
"Although she's endorsed by Emily's List, Georgia's WIN List, and Run for Something, Johnson, like many first-time candidates, is short on money and has built her campaign around postcard parties, coordinated by volunteer Jamie Pecot, which have so far sent out 10,000 cards to district voters. "We get together, we drink wine and eat snacks, and we write postcards to our neighbors, telling them why they should vote for Essence," she says. "And sometimes I show up at a door, and they run and get my postcard!" Johnson exclaims. She's canvassing and registering voters at local nail salons—she even ran into Missy Elliott, and tried to canvass her in her spa chair, but the rapper told her, alas, she's registered to vote in Florida.
Triebsch and Johnson are excited about all the women on the ballot with them, but they confess that there's sometimes confusion, and sometimes competition, for volunteers and resources. "We've decided to coordinate and work together. That's how women do it," Triebsch says diplomatically…."
---
September 30, 2018
By Guest Columnist MELITA EASTERS, Executive Director & Founding Chair of Georgia's WIN List

"On Oct. 1, the 2018 mid-term election is just 37 days away. Nationally and in Georgia, women candidates have won primaries in record-setting numbers, cementing the prediction of 2018 as another "Year of the Woman."
Those primary WINs were before Thursday's U.S. Senate Judiciary Committee hearing, which many now believe will now be a major factor for inspiring voter turnout…"
---
July 21, 2018
Melita Easters, Executive Director and Co-Founder of WIN List featured on WRUU.org 107.5 FM Savannah The Verb Altitude Hour with Carry S.
You've heard of famous progressive suffragists like Sojourner Truth, Susan B. Anthony, and Elizabeth Cady Staton in the Nineteenth century who lead the fight for women's right to vote. In the Twenty-first century, Georgia's WIN List is leading the fight to train, support, and elect progressive Democratic women to statewide and legislative offices here in Georgia. Melita Easters, Executive Director of Georgia's WIN List, joined The Verb Altitude Hour on WRUU.org, 107.5 FM on Saturday, July 21, 2018, from 6:00 PM to 7:00 PM to discuss the importance of electing effective, progressive and Democratic women in the state legislature. Easters covered topics like the "Big Six," the "year of women," and WIN List's campaign to "Grab 'em by the Midterms."
---