20 for 2020
February 10, 2020 – Georgia WIN List, the state's leading Political Action Committee for electing pro-choice Democratic women, today announced an additional eight endorsed women, bringing the total of pre-qualifying early endorsements to "20 for 2020."
The group of 20 includes seven incumbent women whose seats are at the top of Democratic "protect" lists; five women who ran in 2018, came close to winning and "nevertheless persisted" in 2020 with efforts to FLIP a district to Democratic control; and eight women who are first time candidates for the seats they seek.
---
The WINning Women 2020 Legislative Slate
December 5, 2019 – Georgia WIN List announced the women who comprise the "Terrific Twelve," the PAC's first round of 2020 endorsed candidates during a Capitol press conference on December 5th, saying these women offer a strong and diverse set of 2020 Democratic candidates for down-ballot races and gives the party hope for FLIPping the Georgia House. 
---
More than 12 Women to Announce Candidacy for State Office in the Wake of HB 481
May 18, 2019 – In the wake of unprecedented attacks on reproductive freedom and rollbacks of reproductive rights, women are stepping up to run for office at the local, state and federal level. Georgia's WIN List, the state's only Political Action Committee (PAC) devoted to electing pro-choice Democratic Women, will hold a press conference Monday, May 20 at 9:00 a.m. on the interior South steps of the Georgia Capitol.
---
Georgia's WIN List Joins Women In Numbers Filing to Run in 2020
April 5, 2019 – A group of Democratic women and their supporters will gather on the South Steps of Georgia's Capitol on Friday, April 5th, 2019 at 1:00 PM to declare their intentions to run for legislative seats in 2020. They will be announcing their plans to run against Republicans who voted in favor of HB 481, the six-week abortion ban.
---
Georgia's WIN List to Host Annual Legislative Luncheon on Thursday, February 21st
February 19, 2019 – Georgia's WIN List will host their annual legislative fundraiser event – the 2019 Legislative Luncheon – to a sell-out audience at The Commerce Club on Thursday, February 21st.
The luncheon features one-on-one discussions with Representative Lucy McBath, Georgia's newest congresswoman, and Sarah Riggs Amico, who made history as the first female nominee for Lieutenant Governor of Georgia. The conversations will be moderated by WIN List board member, Wendi Clifton.
---
Georgia Climbs National Rankings For Percentage of Women Legislators; Continues Lead in the South

JANUARY 9, 2019 – Georgia continues to lead the South for the highest percentage of women in its General Assembly, rising three spots to rank 20th in the nation.
When the General Assembly convenes on Monday, January 14th, women will comprise 30.5 percent of the 236-member Georgia General Assembly. This percentage exceeds both the percentage of women serving in Congress (23.7 percent) and the average percentage of women serving in state legislatures nationwide (28.6 percent), reports Georgia's WIN List, the state's only Political Action Committee (PAC) devoted to helping elect Democratic women to statewide office and legislative seats.
---
With Abrams and Amico Topping the Ticket, Georgia Leads the Nation in Democratic Women Candidates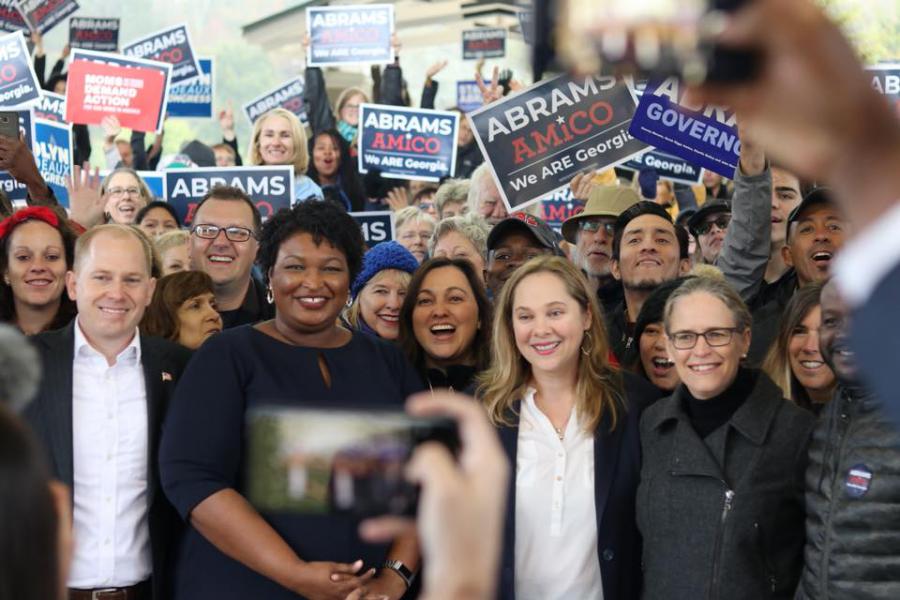 NOVEMBER 6, 2018 – Georgia is at the epicenter of the nation's "Year of Women" in politics for a number of reasons:
Stacey Abrams would become the first woman elected as Georgia's governor and the first black woman elected as governor nationwide. Sarah Riggs Amico would become Georgia's first woman Lt. Governor. Georgia is one of only two states with Democratic women as nominees for both Governor and Lt. Governor.
---
18 Years in the Making, Georgia's WIN List Celebrates Year of Women in Georgia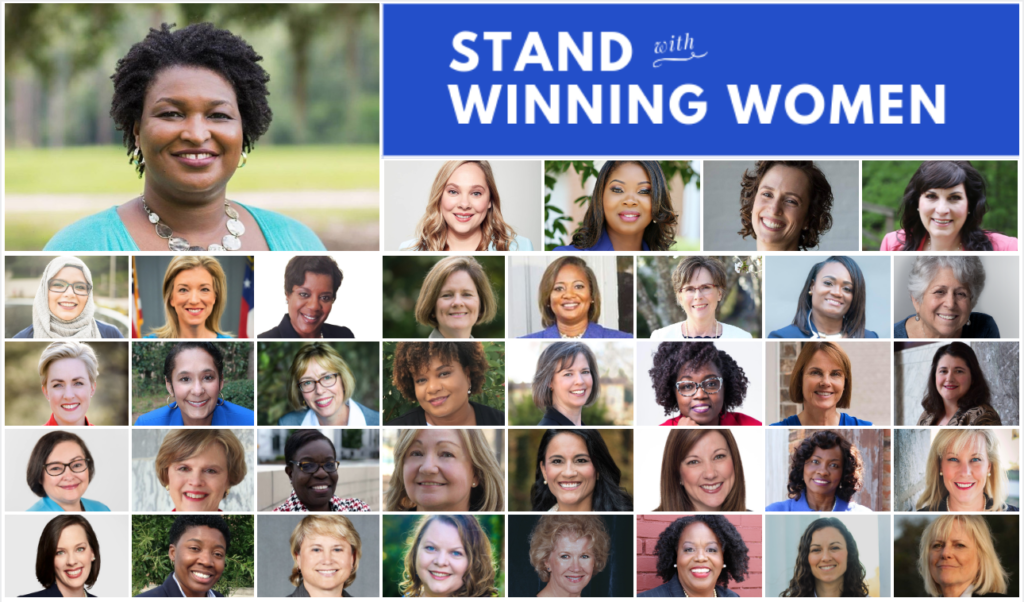 SEPTEMBER 24, 2018 – Georgia's WIN List, the state's leading political action committee dedicated to electing Democratic women, celebrates a record-setting 36 endorsed candidates during a campaign rally on September 25.
The "Stand With WINning Women" rally is scheduled for Tuesday evening September 25th at The Georgia Freight Depot. The event celebrates the historic "first" of women nominees at the top of Georgia's ticket: Stacey Abrams for Governor and Sarah Riggs Amico for Lt. Governor; as well as a record-setting number of diverse women seeking legislative seats long held by Republicans.
---
Georgia's WIN List Plans "Stand With WINning Women" Rally To Celebrate 36 Endorsed Women Candidates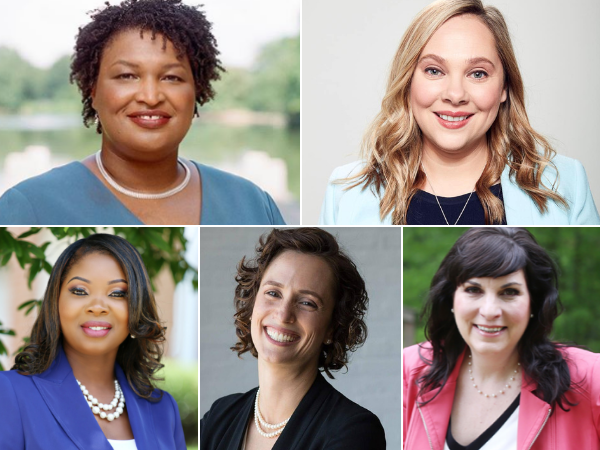 AUGUST 21, 2018 – As the number of women candidates running for office breaks records nationwide, Georgia's WIN List, the state's leading Political Action Committee (PAC) focused on electing Democratic women, announces "Stand With WINning Women" – a historic campaign rally featuring the organization's record-setting slate of 36 endorsed women.
---
Georgia's WIN List Endorsements Reach Unprecedented Number of 35 Women Candidates for November Election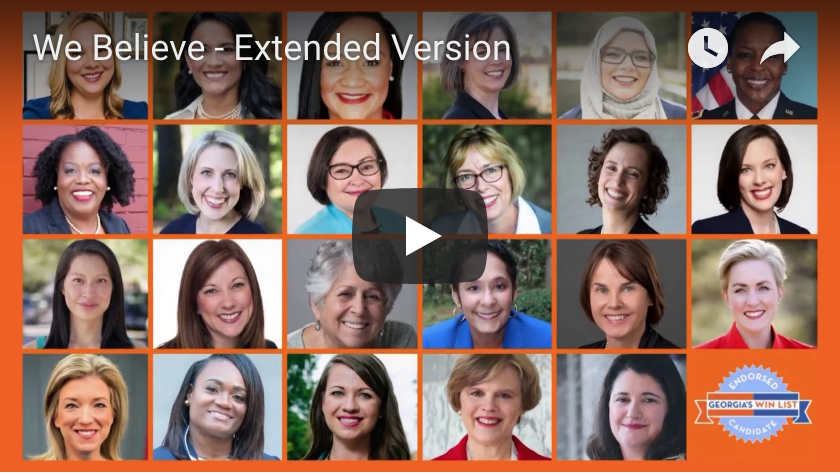 JUNE 27, 2018 – Georgia's WIN List, the state's leading PAC devoted to electing Democratic women, announces Janice Laws for Insurance Commissioner and Dawn Randolph for Public Service Commission District 5 as the most recently endorsed statewide candidates who join a robust ticket of constitutional office candidates…
---
Historic Nominee Stacey Abrams is Keynote For Georgia's WIN List Luncheon
Stacey Abrams, Democratic nominee for Governor, leads ticket of over 30 WIN List-endorsed women candidates for statewide offices and legislative seats
MAY 23, 2018 – Former House Minority Leader Stacey Abrams has made Georgia and national political history as the first woman and African American to be the nominee of a major political party with her victory in Tuesday's Democratic Primary. Abrams is the keynote speaker for a Georgia's WIN List luncheon on Thursday…
---