Brooke Griffiths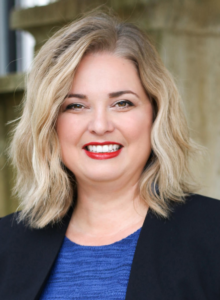 Brooke Griffiths is a journalist, small business owner, and activist running for Senate District 27, which includes most of Forsyth County. In 2017, Brooke co-founded a grassroots organization focusing on connecting like-minded progressive neighbors working to lobby legislators, register voters, knock doors and make calls for campaigns, and advocate for positive change for Georgia families. Griffiths lives in Forsyth County with her husband Dave and has three kids. A few issues Brooke feels strongly about:
Reproductive Rights: Griffiths supports ratifying the Equal Right Amendment and protecting Georgia women's bodily autonomy. She believes in providing universal access to reproductive healthcare and contraception, age-appropriate sex education, paid parental leave and childcare options, and protection against pregnancy discrimination. She would work to overturn HB481, which strips Georgia's women of reproductive rights, punishes rape victims, women who suffer miscarriages, and criminalizes reproductive healthcare.
Affordable Healthcare: Brooke understands what it is like to have a pre-existing condition, having had a brain tumor 12 years ago. She recognizes the doctor shortage in Georgia, the shutdowns of rural hospitals, and the maternal mortality crisis. She believes in expanding affordable, comprehensive healthcare to support residents, especially in under-served areas.
Public Education: Griffiths is against tax vouchers in public education, which divert tax money to private, for-profit businesses and lower accountability standards in schools. She discourages this publicly-funded discrimination. Instead, she prioritizes fully funding public schools.
Diverse Voices: Due to Forsyth's rapidly growing immigrant population, more people in the county believe in progressive ideals. Brooke would work in advancing how the county welcomes an increasingly diverse community. She believes that we need leaders who amplify voices of women, immigrants, LGBTQ community, POC, and residents living below the poverty line. Brooke would prioritize advocating for and listening to diverse voices as a Senator.
Common Sense Gun Safety: Griffiths believes in well-regulated gun ownership. This means requiring safety training and licensing, committing to comprehensive background checks, enforcing gun show sellers be authorized by federal govt to run background checks, and prohibiting domestic abusers from obtaining and owning firearms.
Voting Rights: Brooke believes that Georgia voters need to have their voices heard. While confidence has eroded in our state election system, Brooke will fight to get votes counted and protected.
Campaign Links: