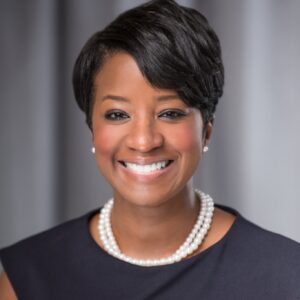 Georgia WIN List is proud to endorse Matielyn Jones for Senate District 45. The seat, currently held by Renee Unterman, covers portions of Gwinnett county including Lawrenceville and Suwanee.
Born in New Orleans, Louisiana, Matielyn developed an appreciation for diversity and civic engagement at a very early age. She moved to Norcross, Georgia as a freshman in high school and graduated from Gwinnett County Public Schools before continuing her education at Georgia State University in Atlanta. Matielyn holds a Master's degree in Social Foundations of Education and a Bachelor's degree in Political Science. 
Matielyn is no stranger to service. After college, she taught social studies at her former high school, and became a faculty advisor to several different student-led groups. In 2008, she worked as a staffer on President Obama's campaign in North Carolina. Matielyn worked to educate, organize and empower voters, resulting in the state's first Democratic victory in 30 years. 
Working as a freelance consultant in Virginia, she developed adult learning curriculum for a training program to help low-income women begin administrative careers.  Matielyn would eventually go back to working in the schools as an administrator for a charter school in Ohio where she formed direct relationships with community organizations in the area. Now, the mother-of-two works as a Talent and Learning Project Specialist on the Global People Team for Habitat for Humanity. 
Housing –  In Gwinnett county, 39% of households spend over 30% of their income on housing. Matielyn believes affordable housing is, in addition to being a basic human need, fundamental to physical and mental health, childhood development, financial independence, stability, and economic security and must be prioritized if elected. 
Healthcare – Matielyn believes no one should go without the medical care they need, and supports a public healthcare option which is free and accessible to all. 
Homelessness – Matielyn will fight to bring an end to homelessness in her district by supporting "housing first" efforts with wrap-around services to provide long-term security and a path to upward mobility for homeless individuals. 
Matielyn lives in Buford, Georgia with her husband, Darryle, and their two sons. She is inspired by her family and her faith.
Campaign Links: