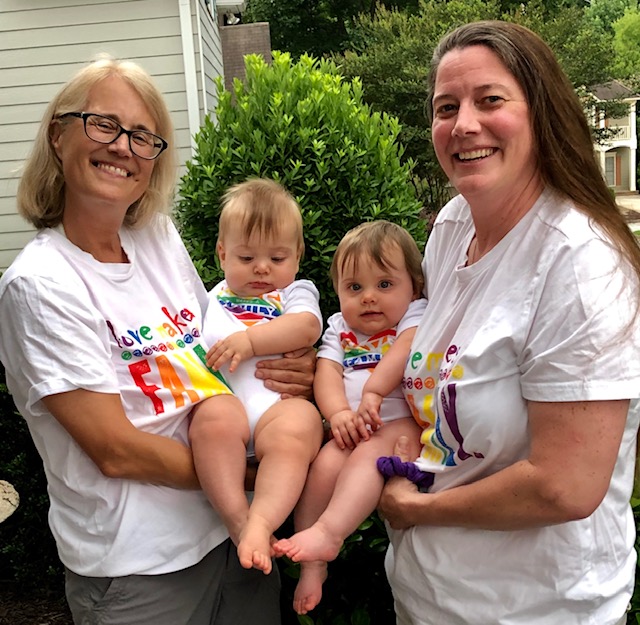 Rep. Dr. Karla Drenner was among the first class of WIN List endorsed women elected in 2000 and became the first lesbian legislator to serve in any southeastern state.
The WIN List endorsement was a turning point for her campaign as it was one of the first she received in her bid to unseat a sitting four-term incumbent. She recalled the interview with WIN List board members in her memoir, "I realized I was no longer terrified of speaking in public, no longer relying on a scripted speech, and not trickling sweat down my back. My confidence as a candidate and faith in my candidacy were rapidly emerging."
WIN List board members at the time were impressed by the fact soon to be Rep. Drenner had walked across her district knocking on doors, many of them three or four times. Further, her academic credentials were impressive: doctoral degrees in both public administration and occupational safety and health, master's degrees in both environmental science and business administration and an undergraduate degree in radiation physics. Clearly, she was well prepared to work towards protecting the environment and improving public education, two of her primary campaign promises.
Upon election, she found herself the only representative of the LGBTQ+ community in the General Assembly, a theme echoed in her memoir, "One: A True Story of Politics, Prayer and the Power of One." There were times when she did not feel welcome even in her own caucus due to pre-conceived assumptions about gays.
She said her early years in the General Assembly were marked by a sharp learning curve. The academic degrees gave her a strong base of "theoretical and philosophical knowledge," but there was much to still learn about the actual practice and politics of the collaboration needed in the legislative process. She said legislators must develop the "willingness" to allow good ideas to be further refined during the committee process. "I sometimes watch the new people and wonder, "Was I like that – all puffed up and full of myself," she laughs.
Also, during her early years of service, members of the LGBTQ+ community were often disappointed and even critical when she did not quickly introduce legislation supporting gay marriage or adding those in the LGBTQ+ community as a legislatively protected class for hate crimes. However, she notes, proposing such measures before the votes needed for passage could be attained would have been "an exercise in futility."
Tolerance and understanding have become her mantras for legislative service. She has found herself, over the course of 18 years in the General Assembly, sitting in close proximity to many male Republican legislators with whom she rarely agrees on policy matters.
"You can still like the people who don't agree with you 100 percent of the time," she says, recalling a Cobb County Republican representative with whom she had pointed disagreements on RFRA legislation. However, he was the only legislative colleague who attended the funeral of her former partner. "He came, sat beside me and held my hand during the funeral," she said.
A powerful Republican Committee Chair called her aside for a private conversation. He told her he had "heard" about her when he was first elected and decided to avoid her. "I had decided you were not worth knowing," he told her. "I want to apologize because as I have sat near you, I have come to know you are kind and thoughtful. You give careful consideration to how you vote. I want you to know I respect you."
Rep. Drenner is chair of the DeKalb County House delegation and serves on Energy, Utilities & Telecommunications, Health and Human Services, Rules, Natural Resources and the Small Business Development Committees. She and her wife, Candice, are the mothers of 10-month-old twins Margaret Rose and Carter Francis. Her older daughter, Kyle, is a recent graduate of UGA with a master's degree in accounting and her son Evan works in the Decatur area.
Rep. Drenner says the proudest accomplishment of her legislative career may very well be not a particular piece of legislation, but in being true to herself. "I have not allowed others to define my sense of self," she said. "I have held the light and been a beacon of hope for the people I represent and the LGBTQ+ community."
Another beacon of hope, she says, is the record setting numbers of women who have recently been elected.
"What WIN List does is more important now than ever before," Rep. Drenner says. "The #MeToo movement is far from over. Women continue to be greatly under-represented in politics both at the state and national level. We need more women in the Georgia General Assembly, in statewide office and representing us in the United States Senate. More women should run for office and WIN List encourages us to do that."
WIN List needs your help to support our recruitment and training efforts. Your contribution prior to disclosure reports on June 30th sends a strong message to the Republicans who voted in favor of HB 481 – we are coming for their seats. Donate here.