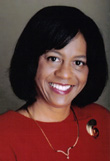 Valencia Seay | Senate District 34
Checks Payable To: Seay for Senate
Campaign Address: PO Box 960008 | Riverdale, GA 30296
Campaign Phone: 770.909.9912
Email: seayv@bellsouth.net
Website: www.valenciaseay.com
ACTION ALERT – Valencia has two challengers in the upcoming primary election to be held on July 20, 2010.  We need your help today to make sure that Valencia stays in the Senate to fight for issues important to women and families!

In 2003, Valencia Martin Seay became the first African-American elected to represent Clayton and Fayette Counties in the Georgia Senate, where she is secretary of the State Institutions and Property Committee and a member of the Public Safety, State Institutions and Property, Transportation, Urban Affairs and Appropriations committees.  During her first term in the Georgia House of Representatives, in 2001, Seay authored and passed a bill allowing all voting age students to register to vote at school, and the Georgia Legislative Black Caucus named her "Freshman Legislator of the Year".
Retired from a 22-year career in banking, Sen. Seay is president and CEO of Seay & Associates. She has been elected to several positions within state and local government in her career, including the Georgia Senate (2003-present), Georgia House of Representatives (2001-02), Clayton County Board of Education (1993-2000), vice chair of the Senate Democratic Caucus (2005-present) and chair of the Clayton County Legislative Delegation (2005-06). In 2009, she was appointed to Governor Sonny Perdue's Census Complete Counts Committee to help coordinate community education on the 2010 Census. That same year she was also appointed to 1st vice chair of the National Black Caucus of State Legislators (NBCSL) Committee on Telecommunications, Science and Technology by NBCSL's president and fellow Georgian, Rep. Calvin Smyre of Columbus. Sen. Seay has also been appointed to the NBCSL Executive Committee, the Georgia School Board Association Federal Relation Network, Georgia School Board Association Ethics Committee and as vice-president of the Clayton County Board of Education.
Throughout her career, Sen. Seay has been closely involved with various civic groups and active in her community. She is a Life Member of the NAACP and the National Council of Negro Women. She is very active with the Georgia Legislative Black Caucus, where she served as vice chair from 2005 to 2006, and the Georgia Association of Black Elected Officials. Sen. Seay also supports the advancement of women as a member of the National Organization of Women Legislators, Women in Government and the Women's Legislative Caucus, where she has served as a tri-chair from 2007 to 2008. In 2007, Sen. Seay was honored by the Clayton County chapter of the NAACP with its prestigious Living Legend Award.
Sen. Seay attended DeKalb College, Clayton College and State University, and is a graduate of the Flemming Fellows Leadership Institute. She is married to Walter Seay and they have two children and four grandchildren. The Seays are members of the Antioch Baptist Church North.