Veteran and Super Lawyer Zahra Karinshak Seeks Gwinnett Senate Seat
Georgia's WIN List proudly endorses Air Force veteran and attorney Zahra Karinshak for Senate District 48, an open seat long held by Republicans in the heart of rapidly changing Gwinnett County. SD 48 is one of the most highly "flippable" Senate seats on the November ballot and with her extraordinary fundraising efforts and energetic ground game, Zahra is poised for a WIN!
Zarah grew up the oldest of five children in LaFayette, where she was the daughter of a father from Iran and a mother from the local area. She was selected to attend the United States Air Force Academy, where she graduated in 1989 with a B.S. in International Affairs and a Minor Degree in Arabic. She was recognized as the Top Graduate in Law. Her military service took her all over the world and she was recognized as the Air Force Intelligence Command, Pacific, Company Grade Officer of the Year. She was also the top graduate from intelligence school, with the highest academic average in the course's history and her many awards include the Meritorious Service Medal and the Air Force Commendation Medal.

From left: Zahra graduating from the United States Air Force Academy; re-enlisting a TSgt on the USS Arizona Memorial in Pearl Harbor; visiting the Demilitarized Zone in Korea during her military service.
Upon completion of military service, she attended Emory University School of Law, where she graduated with honors before working with judges, at a large law firm and as counsel for Governor Roy E. Barnes, where she helped change the Georgia flag among other achievements. Zahra then served as a federal prosecutor in Atlanta for eight years successfully prosecuting cases involving fraud, public corruption, violent crime, child exploitation, human trafficking, sex trafficking, and other crimes. She is currently a partner/owner in a mid-sized law firm where she has helped taxpayers recover millions of dollars from companies who commit fraud. Her peers have ranked her as a top 100 Georgia Super Lawyer.
Zahra has been married to Bruce Karinshak for 27 years and they have two teenage daughters. Bruce works at Coca-Cola and is a West Point graduate who served in the United States Army as a Combat Engineer (Airborne Ranger qualified). The family has lived in Lawrenceville since 1994 where they are active members of their church and involved with many community charities.
Zahra credits her daughters as her inspiration for seeking office. During the 2016 election, they observed, "No one is being kind to each other and you, mom, have to do something to bring us together." Zahra decided:
"They are right. Politics has turned too divisive and partisanship runs deep. I am running to bridge the political divide and restore trust, ethics, and civility back into our public discourse, In the state Senate, I will work with all my constituents – Democrat, Republican or otherwise – to move our state forward."

To learn more about Zahra's specific policy proposals for education, transportation, healthcare, economic development, sustainable energy, and environmental protection, keeping communities safe and the preservation and protection of civil rights, visit her campaign website and follow her activities on social media:
Zahra Karinshak for Senate
Women like Zahra were born to be leaders and public servants. With her exceptional military and law experience, she is perfectly poised to step into the role as Senator. Having devoted her career to protecting people, we are confident that with Zahra in the Senate, every single Georgian will benefit. Please join us in our efforts to help get Zahra and women all across Georgia elected.
Your Donations Help Women Like Zahra WIN.
Your Donations Help ALL Women WIN.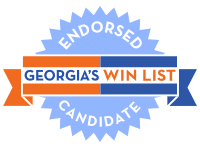 Please follow and like us: